William Llewellyn Griffiths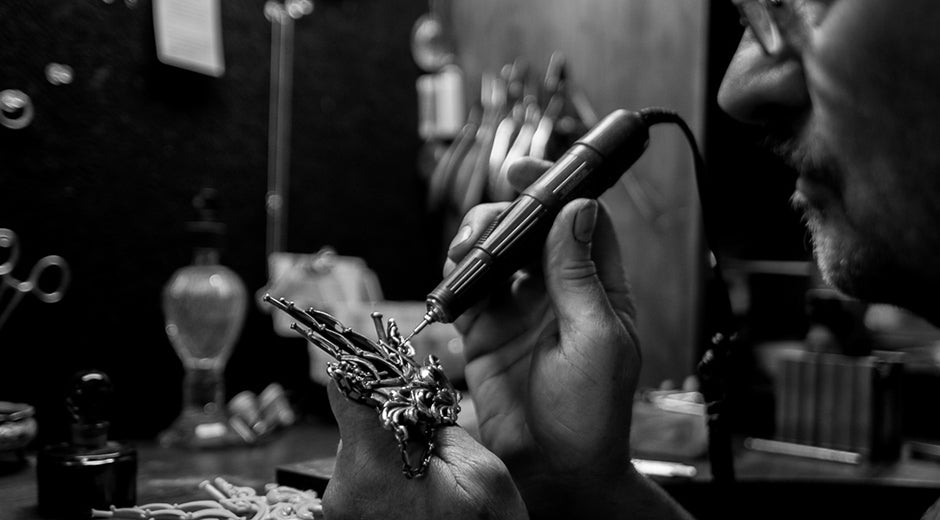 A diamond, even with it's flaws and inclusions, will always stand the test of time. For many years there has been an obsession with buying only 'perfect' gemstones. Yet it is the imperfections and inclusions in gemstones that are essential indications of their purity. More and more, these inclusions are being seen as a thing of beauty, adding a uniqueness to the stone rather than making it imperfect. It is the imperfections in a marriage that truly make it beautiful.
The son of an artist and an inventor, William Llewellyn Griffiths is a self-taught manipulator of precious metals. His colourful career began in his late teens, in the heart of London's jewellery district – Hatton Garden. He has since honed his skills across the globe, working in Auckland, London and Melbourne.
Griffiths' prolific output reveals a rich tapestry of historical and cultural influences, inspired by his own life experience. From gothic architecture, tattoo art and baroque ornament to the biomechanical, his bespoke creations range from delicate whispers of diamonds, daggers and swallows to massive, opulent cathedral rings, both distinctive and breathtaking to behold.
Dedicated to creating unique pieces with soul, Griffiths seeks out rare and unusual stones and materials for his work. The resulting pieces have a unique effervescence and otherworldly intensity to them – not unlike the maker himself.