Michaela Pegum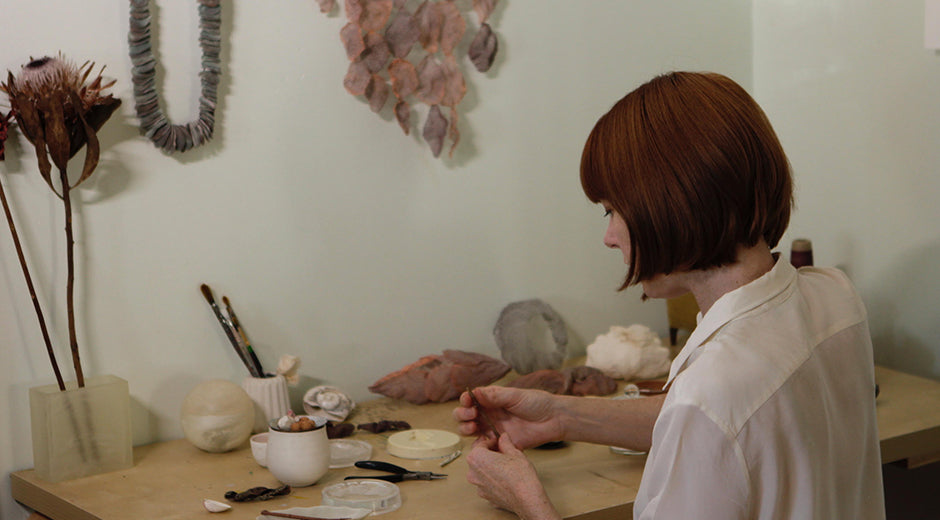 I've found that the crease known as the 'heart line', found towards the top of the palm near the fingers, is often the deepest fold. And it is this part of the hand, with its ancient historical allusions to our emotional lives and its complex depth of form - unique in every person - on which this collection is centered. These pieces honour the uniqueness of this personal mark, alongside the way our individual worlds combine to create the shared space of love.
Michaela's practice is an exploration of felt experience, garnered through the deeply embodied and poetic relationships we form with the natural world. Her latest collection 'Inner Traces' (2021) for Pieces of Eight Gallery, explores human relationships and is centered on the crease in the hand called the 'heart line', found towards the top of the palm near the fingers. Read the interview here.
Originally from New South Wales and now living in Melbourne, Michaela has a background and practice in contemporary dance and choreography, a Bachelor of Design (Honours) from UTS and a Bachelor of Fine Arts (First Class Honours) Gold & Silversmithing from RMIT where she is also undertaking her PhD. She is the recipient of a number of awards including the National Contemporary Jewellery Award, the Victorian Craft Award - Lynne Kosky Jewellery Encouragement Award, the Fresh! Pieces of Eight Award, and the Contemporary Wearables Student Prize. She was selected for Schmuck in Munich, Germany and the Marzee International Graduate Show in the Netherlands and has exhibited both locally and internationally in Europe and Asia.